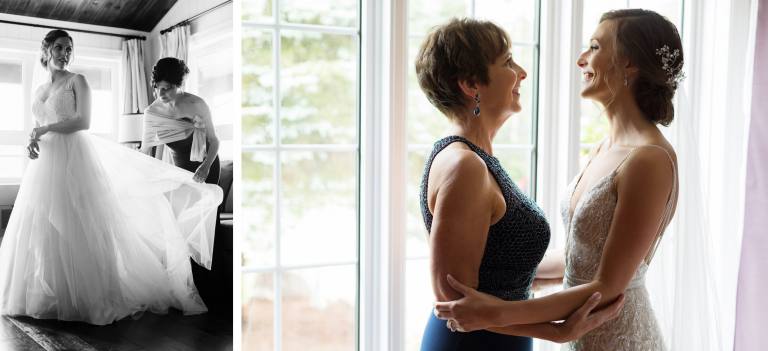 As a photographer, one of my favourite parts of the wedding day is photographing the special connection between mother and daughter. The wedding day is when a mother recognizes that their daughter is fully capable of organizing a large event and is able to successfully incorporate long standing family traditions along with modern unique ideas while still respectfully representing her family at this event. This is the moment that every mother realizes they are no longer in control of their daughters lives and have to trust that they will be ok without them. I love shooting  at least 10 minutes of  photos alone with the bride and her mother, whether it be helping each other get ready or a candid photoshoot with just the two of them. I love capturing the likeness in both women, whether it be from a side profile or in their smiles.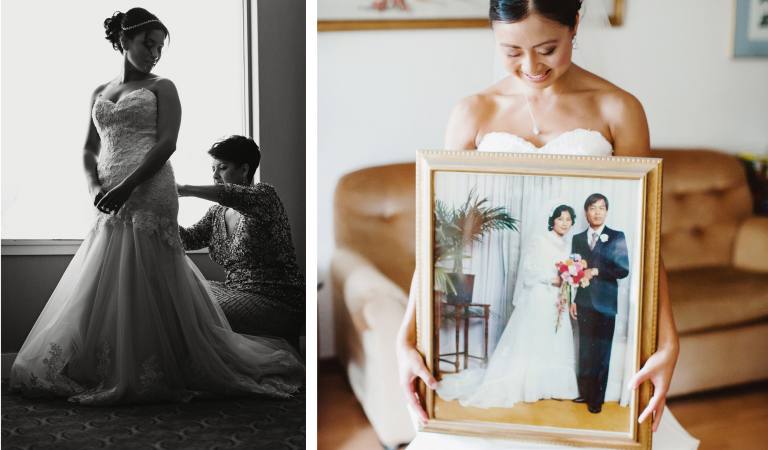 At nearly every wedding there is time in the morning, after the hair and makeup is done, when a mother helps her daughter get ready. This is possibly the last time in their lives it's appropriate for Mom to help her daughter get ready for an important event.  Sometimes she brushes her daughters hair, reminiscing of when her daughter was much smaller and both women younger. Other times she does up the buttons on her  daughters dress, cursing and asking for her glasses but refusing help from anyone else. Sometimes the mother is elderly and it's the daughter who helps the mother get ready, brushing her mothers hair and giving instructions to the makeup artist to help it look natural. Other times the bride might get upset with something that's happening and the mother can put on her supermom cape for the last time and wave her wand to make everything better. This is not something that changes between cultures or age.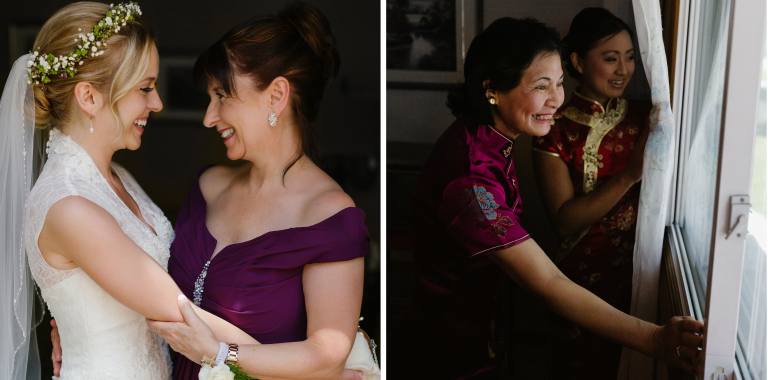 Having photographed many different religious weddings and brides of all ages I have noticed that this mother-daughter relationship is the same… only the details are different. Instead of arguing over the appropriate amount of cleavage to show in a catholic church wedding, an Indian mother and daughter argue over the placing of the bridal Dupatta and whether or not it's too far forward or back on the head.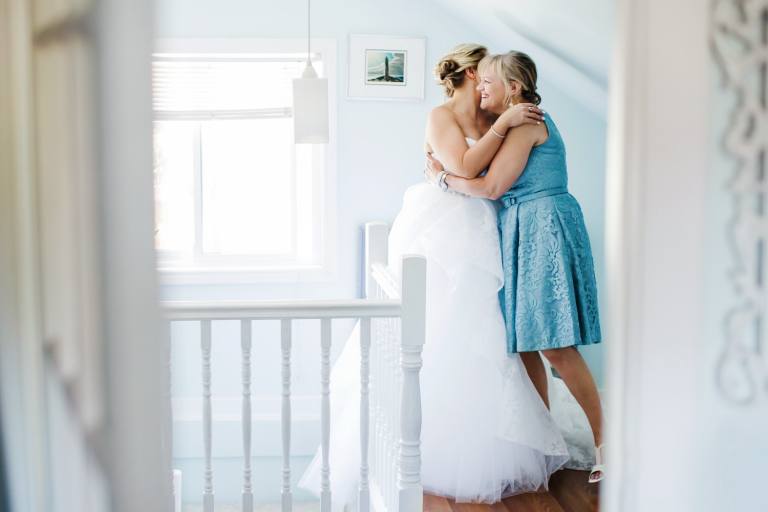 Watching these relationships has brought a lot of insight into this bond on the wedding day and I've realized that the wedding day is the official marking of the passage from childhood to adulthood, regardless if the daughter is 21 or 44. This is the moment mothers and daughters become friends.

It wasn't until I moved away from my hometown that I started spending quality time with my mother. Hear me out – when I lived in the same town as her I would pop over for dinner once or twice a month (which maybe added up to 20 dinners a year at a few hours each), but now we spend over 4 weeks a year with each other – full 24 hour days instead of a 2 hour dinner. When I go home to visit my parents in Sudbury, Ontario or my mom comes to Vancouver to see me  we stay at each others places and it feels like we are on holidays together. At every wedding there are aspects of the brides mother that remind me of my own mom and I know my mom would want some special photos of just the two of together on the wedding day.
Here is a photo of my and my mom… We try to take studio photos together every few years.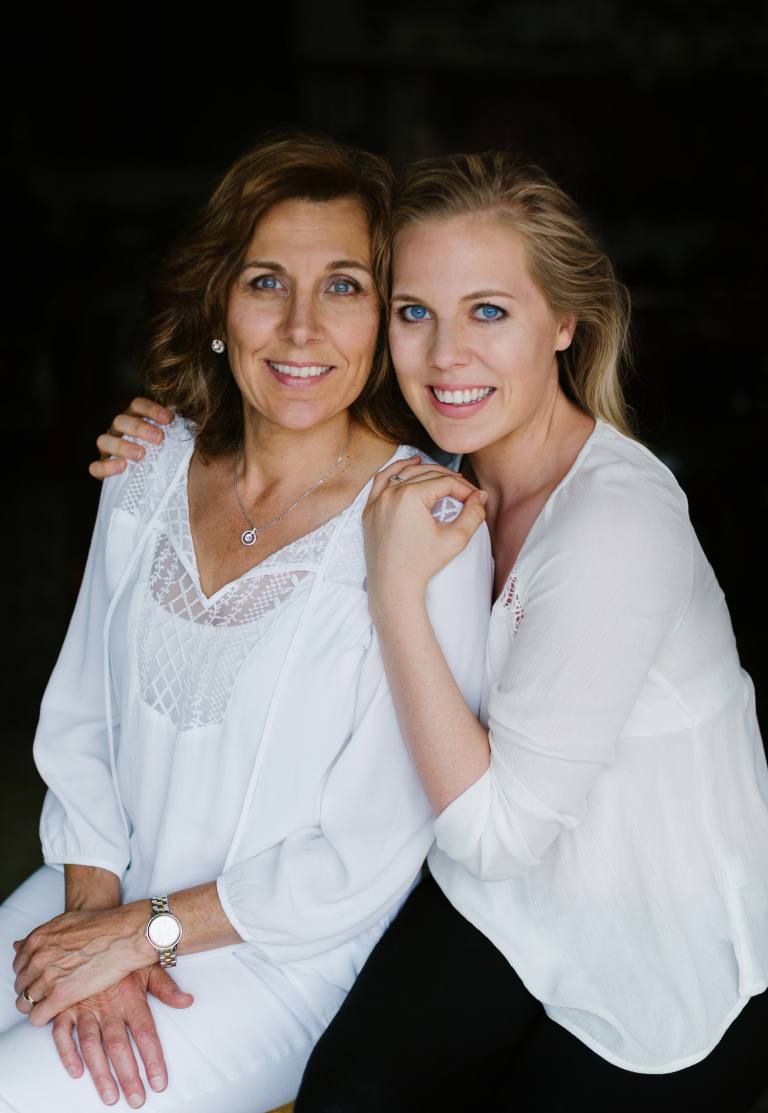 Most of my friends in Vancouver have mothers who live out of town and whenever they came to visit  I did a studio photoshoot with them and their mothers. These photos can be found below.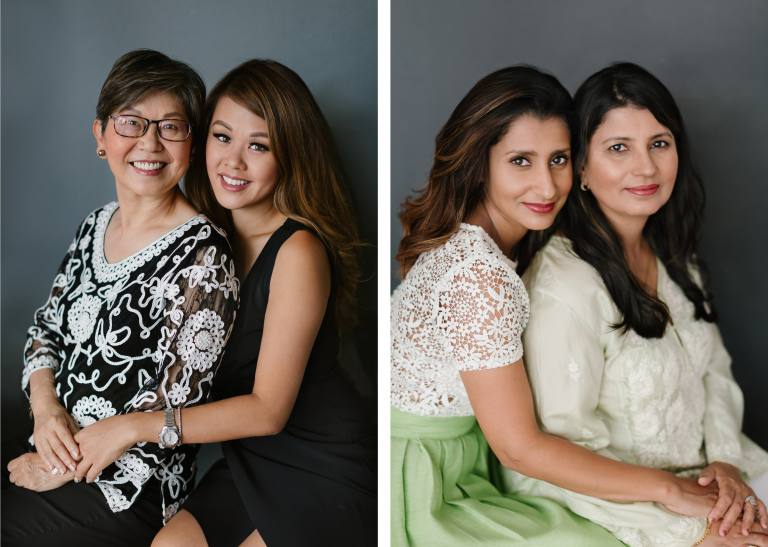 ---
About Caroline Ross Photography
With the belief that images capturing the emotion and experiences of your wedding day should be as enduring as they are beautiful, Caroline forgoes trendy fads for the sake of elegant, everlasting photography to be enjoyed for decades to come.
---
Interested in learning more about Caroline Ross Photography Pricing and Packages?
Visit: https://www.carolinephotography.ca/pricing-for-caroline-ross-photography/
---